Athletics
At Applewild we move, we play, and we get outside! Activity and movement are prioritized at Applewild to make the school day engaging and balanced for our students. Our students travel around campus for classes in different locations, break for snack and recess every day, and regularly participate in PE and sports. Applewild students are always moving!
Team Sports
In 5th grade our students join our team sports programs, using the foundational skills they developed in K-4. Applewild student-athletes develop good sportsmanship and confidence, understand the value of teamwork and trying their best, and realize that win or lose, they are improving every day.
No matter what the venue, Applewild athletics maintains its emphasis on inclusivity, teamwork, and respect. Our no-cut policy ensures that Applewild students of all skill levels get to have fun and improve on the field.
Select an image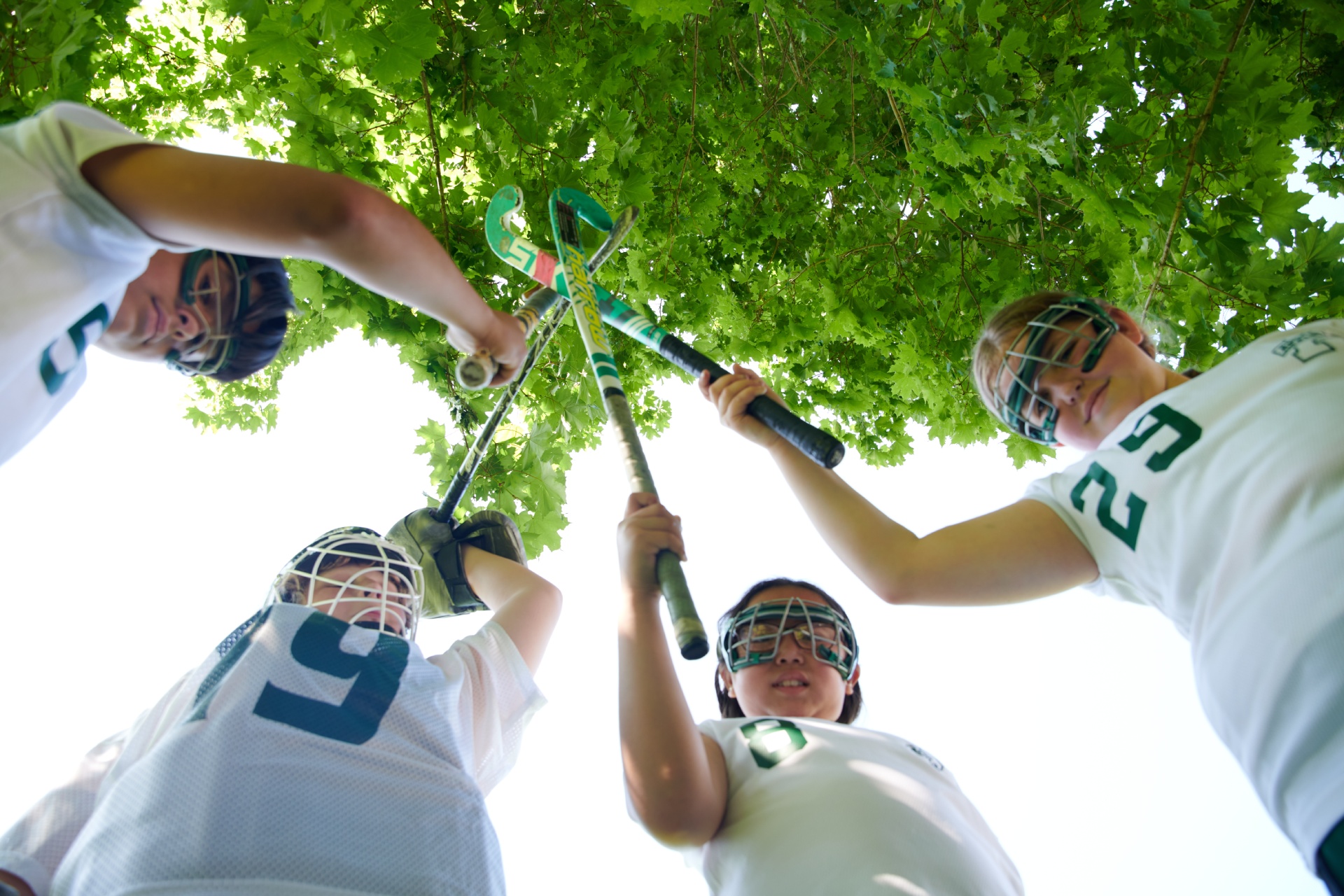 Perseverance
Learning to demonstrate perseverance on the court or overcome adversity on the field are lessons transferable to the classroom and life.
Select an image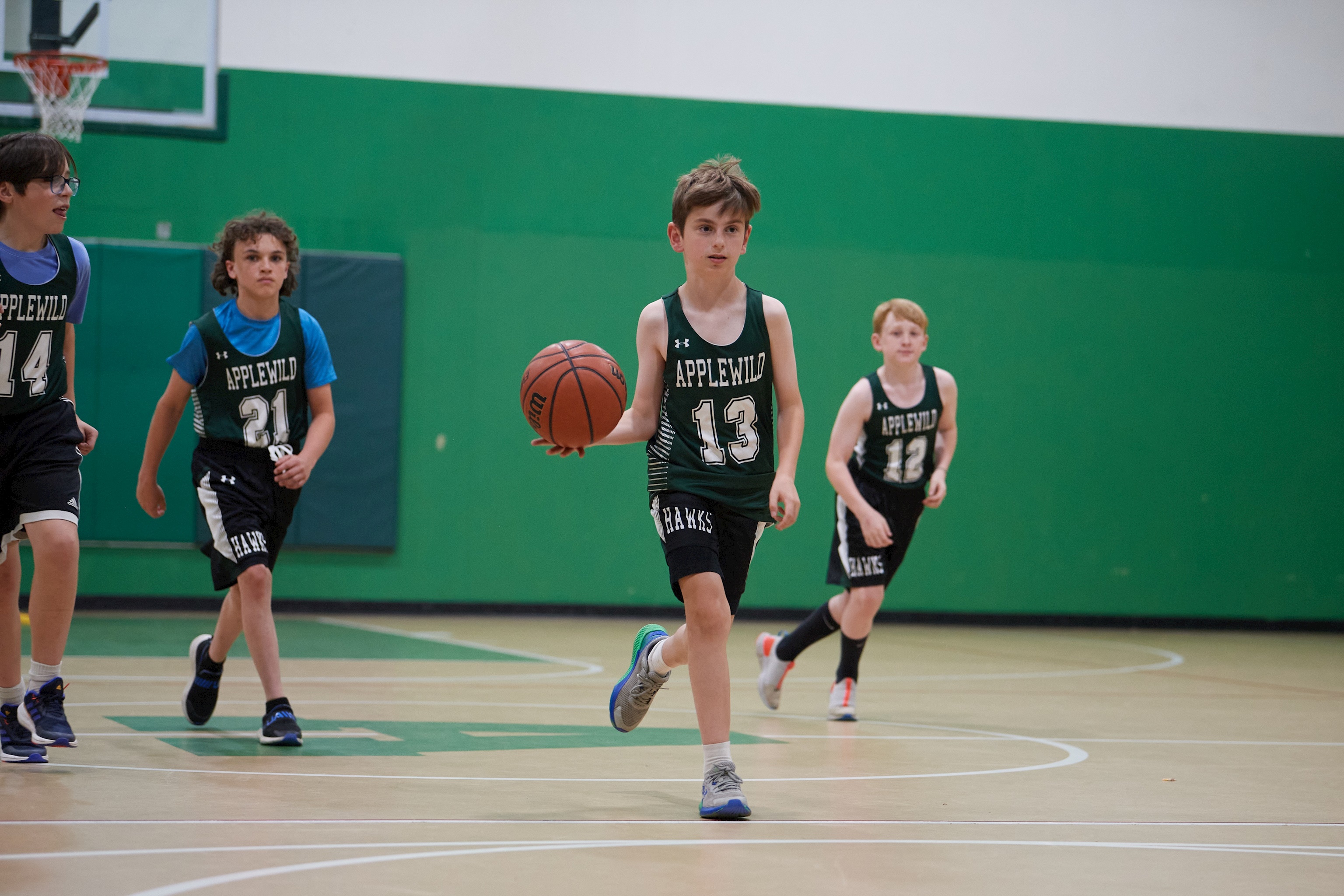 | Fall Sports | Winter Sports | Spring Sports |
| --- | --- | --- |
| Girls Soccer | Girls Basketball | Girls Lacrosse |
| Boys Soccer | Boys Basketball | Boys Lacrosse |
| Co-Ed Field Hockey | Co-Ed Healthy Hawks Physical Conditioning | Co-Ed Ultimate Frisbee |
| Co-Ed Cross Country | Co-Ed Recreational Ski and Snowboard | Co-Ed Equestrian |
| Co-Ed Equestrian | Co-Ed Ski Hawks Alpine Ski Racing | |
Athletics Events Locations at Applewild
Soccer & Lacrosse Fields: 36 Flat Rock Road, Fitchburg, MA 01420 - Located at the top of the hill past the Crocker House, bear left at the fork as Prospect Street becomes Flat Rock Road. Pull into the driveway on the left and park on the grass to the left of the house and fields. (36 Flat Rock Road, Fitchburg, MA 01420)
Field Hockey Field: Located across the street from Crocker House. Park on the circular driveway in front of Crocker House; cross at the crosswalk and follow the path to the field below.
Basketball in the Simmonds Gymnasium: Park on the circular driveway in front of Crocker House. The gym is directly to the left of Crocker House.
Equestrian: Frosted Moon Farm, 411 North Street, Jefferson, MA 01522
Ski and Snowboard: Wachusett Mountain Resort, 499 Mountain Rd, Princeton MA 01541
PE Program
Beginning in Kindergarten, our PE program is designed to introduce skills to promote fitness, improve body control, spatial awareness and motor skills, and encourage collaboration and good sportsmanship. Our younger students play games, learn the basics of different sports, and spend plenty of time outdoors, sometimes hiking in the hundreds of acres of conservation land surrounding our campus.